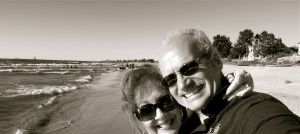 "Loving is not just looking at each other, it's looking in the same direction."  ~Antoine de Saint-Exupéry
At our house, Valentine's Day isn't just your average holiday. It's also my husband's birthday — which I enjoy just as much as he does, since it means cashing in the "free birthday dinner" coupons he's accumulated this month. We won't have to cook dinner for a full week!
More than anything, really, Valentine's Day is an opportunity for all of us to think about the people we love and what they mean to us. What makes a relationship work? What makes love last? What can we do to make each other happy?
With that in mind, Royal Oak Patch editor, Judy Davids, is running a month-long interview series featuring local couples. Doug and I were honored to be a part of this series, and you can read our interview here.  Happy Valentine's Day to all!