They live forever in your broken heart….And you come through. Its like having a broken leg that never heals perfectly—that still hurts when the weather gets cold, but you learn to dance with the limp." — Anne Lamott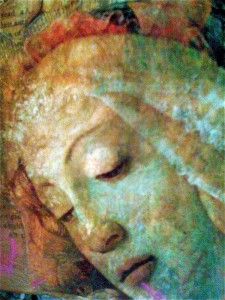 I'm on holiday break for the next week, so I'll continue to repost seasonal pieces. This one was published on Nov. 26, 2006 in my Daily Tribune "Life Lines" column. — CL
______________
No matter how old you are, losing a parent is a difficult rite of passage. Like childbirth, it is such a complex, emotional experience that it's never easy to explain to anyone who hasn't walked through it.
My own father died suddenly at 65. I was 38 and had a family of my own, yet I still felt unmoored and abandoned. Even though my mother was alive and in good health then, it seemed as though Id been exiled to a strange frontier without a map. And in some ways, I had.
At that point, none of my closest friends had lost a parent. They couldnt comprehend the depth of such a loss — or why my sorrow turned to anger or resentment during the holidays. And I couldnt begin to articulate the unexpected waves of grief.
Writing about the loss of her own beloved father in Plan B: Further Thoughts on Faith, Anne Lamott said it best: "Sometimes, when Ive done something fabulous, I feel like a gymnast who has performed a flawless routine in an empty auditorium."
Before my dad died, I avoided most funeral homes and memorial services. On the rare occasions when I did attend, I struggled to find the right words for the bereaved. I found it awkward to view a casket, open or closed. In retrospect, I hadn't found a direction for my own life yet — so how could I look death in the eye and make any sort of peace with it?
But a lot of things changed when my father died — and so did I.
I looked long and hard at the self-centered goals Id been striving for in my twenties and thirties. In the weeks and months after Dad was buried, I listed everything that had been important to him: home, family, hard work, honesty, and kindness. In his honor, I decided to recommit myself to the values hed hoped to pass along. And, most important of all, I stopped taking for granted the people I loved. The road back to normal was long, but I regained my footing and felt whole again.
In retrospect, I hadn't found a direction for my own life yet — so how could I look death in the eye and make any sort of peace with it?
To be released this month, Always Too Soon by Allison Gilbert offers words of reassurance to anyone who is struggling with the loss of one or both parents. Gilbert, who was parentless by age 31, discusses the stages of her grief in the books introduction.
"My first parentless Thanksgiving came two months after my father died," Gilbert recalls. "I didnt feel old enough to be responsible for Thanksgiving…. I was no longer somebodys child going home for the holidays. I felt overwhelmed, and despite my husband and brothers support, utterly alone. I was also filled with self-centered anger."
Always Too Soon features conversations with more than a dozen celebrities who were willing to share their own experiences with parent loss, including Rosanne Cash, Yogi Berra, Mariel Hemingway, Dennis Franz, and Rosanna Arquette. It also includes moving insights from not-so-famous people who lost parents in the Oklahoma City bombing and the September 11 terrorist attacks.
Its a book Id recommend highly to friends in need of comfort — and these days there are quite a few.
Within the past year and a half, two of my former college roommates watched their mothers lose their long battles with Parkinsons disease. Another friend recently answered a late-night call announcing that her father had died unexpectedly of a heart attack.
Lately, visits to funeral homes and memorial services have become routine. I dont always know the "right" things to say, but I do understand that my presence is important. I try to be the kind of friend I needed when my father died 14 years ago. I try to be honest. I remind my grieving friends that recovery from such a huge loss takes its own bittersweet time.
I also remind them that grief is a remarkable guide, if were willing to stay with it through the darkest places on our journey. We learn from our losses and grow stronger. Then we return to help each other heal.  — Cindy La Ferle