Mother is a verb, not a noun."  ~ English Proverb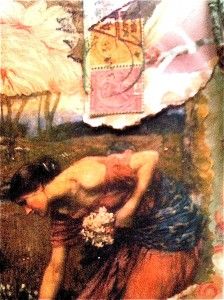 Its going to take several days to recover from last weeks domestic flurry – a self-inflicted storm of floor washing, napkin ironing, furniture polishing, and grocery shopping. As most women would, I blamed it initially on the Thanksgiving holiday and the fact that I would be hosting out-of-town guests.
But the truth is, my out-of-town guests were my son and his wife – dear ones whove seen our home in its most chaotic state and are not particularly fussy.
As it happened, I wasnt even scheduled to cook the big Thanksgiving meal this year. I knew wed be taking my mother (whose vascular dementia is monitored at a nearby assisted-living residence) to dinner at a local restaurant. A culinary no-brainer.
And as for kitchen duty, my only obligation was to provide breakfast, lunch, or light snacks for our small family of four throughout the weekend.
So why all the fuss? Was it simply my old holiday anxiety rearing its annual, festive head? Or was I trying to impress my new daughter-in-law, who was spending the nights with our son in the guest room?
None of the above.
It wasnt until my son pointed out that I was getting a tad neurotic about freshening the bathroom towels every half hour that I realized my housekeeping-on-steroids was another symptom of grief and mother loss.
Before I explain, bear with me while I spin through a Dickensian-style flashback of winter holidays past … Back when my mother was a busy commercial artist and homemaker who loved to entertain guests … Back before heart disease and dementia rendered her helpless and confused.
Halls were decked; mantels were festooned; bathrooms were sanitized and outfitted with glittering yuletide candles.
Back then, my mother would put me to work alongside her at the kitchen counter. Under her artistic direction, I baked cookies, rolled appetizers, and speared tiny cornichons with cellophane-ruffled toothpicks.  Together we dusted and rearranged all the living room furniture. Halls were decked; mantels were festooned; bathrooms were sanitized and outfitted with glittering yuletide candles.
It didnt matter if the visiting folks were my grandparents or my fathers coworkers; Mom and I channeled Betty Crocker, Julia Child or Martha Stewart.  If the holiday guests were also spending the night (or more), Mom would throw the schedule into overdrive and put me on laundry duty. Cranking up the washing machine, shed order me to gather every towel and washrag in the linen closet that "needed freshening up." Yes, even the clean ones.
I'll admit there were moments when I felt like Cinderella in her scullery maid phase. Even so, those domestic chores trumpeted the arrival of the holiday season. And now, they're an inextricable part of the memories and traditions my mother crafted for our family — even when the world was crumbling around us.
In December of 1992, five months after my fathers sudden death from a heart attack, I didnt want to think about Christmas. The very idea of hanging mistletoe, or clearing the dining room table for a "festive" meal, seemed like a violation of our familys raw grief.  It was my mother who convinced me otherwise, reminding me that Dad loved Christmas — and that he would have wanted us to celebrate for the sake of my little boy, who was barely seven at the time.
I believe, in retrospect, that sprucing things up for the holidays that year kept my mother from feeling totally engulfed by her loss. Cleaning, decorating, and cooking helped fill the unspeakable void while she made Christmas for the rest of us. Over the past five years, dementia has devoured that resourceful mother of mine, but only in recent months have I found the courage, and the words, to admit how much I miss the nurturing that only a mother can give.
And I know, now, that all the ridiculous furniture polishing and towel washing — my flurry of domestic fuss last week — was a way of mothering myself. Following Mom's old example, I was cleaning for comfort and trying to recreate a lost sense of order. A memory of holidays long past.  – Cindy La Ferle  
–Original collage detail above: "Gathering In," by Cindy La Ferle–