September 29, 2012. Congratulations on your marriage and a most beautiful wedding, Andrea and Nate!"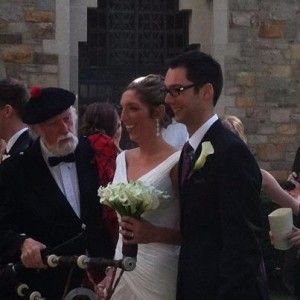 Yes, it's totally unlike me to miss the chance to capture a big moment on a screen or in print. But this time, my camera stayed in my tote bag and my laptop stayed at home. I wanted to savor and experience every minute of my son's wedding, so I simply recorded favorite memories in my heart.
Over the next few days, other photographers will edit and share their own highlights, and I will try to post a few of those on Facebook. The photo at (top) left was taken by my dear friend, John Schultz, who caught Nate and Andrea in conversation with the bagpiper after the ceremony. The bottom photo was taken by Andrea's aunt, Mira Mataija.
Reflecting on the wedding in her Facebook status update, our good neighbor Pam Rusinowski described the events of the weekend perfectly: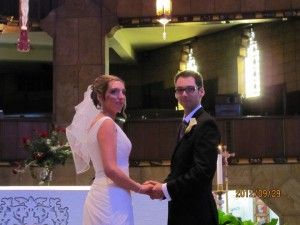 "This was one of the most awesome weddings and such a sweet love story (best friends, I believe, since grade school), starting with the Croatian band serenading the bride as she boarded the wedding bus, then on to the hospitality suite at the Detroit Renaissance Center, then up to Coach Insignia at the top of the RenCen.What a view of a perfect sunset over the Detroit River, then the moon rising over the Detroit River …. Fun neighbors, friends and family …. Dancing with the whole family. And the food: Lobster corn dogs, an amazing dinner, and the biggest sweet table in history!  Then a Sunday brunch at Andiamo's at the RenCen, and more FOOD at the bride's mother's home (of course). All the while, Nate and Andrea's friendship and love were shining through. They had a blast at their own wedding, which was wonderful to see. Two families joined that have already loved each other for a long time."
Thanks to all for the many good wishes you've sent to our family!