Perhaps the questions the writer most fears from her potential readers is: Why have you done this? With the implication: Why have you done this to me? — Mary Gordon, Circling My Mother
Can we get too personal when we're writing our memoirs or family stories? Is it wiser to stuff the hard emotional truth into a private journal and keep quiet?
The dilemma hit home last week when I visited my mother in her new assisted living residence. On the table in her kitchenette was a fresh copy of Michigan Senior Living, a publication featuring a new column I'd written about my mother's difficult transition to assisting living. Oops. It should go without saying that I didn't intend for my mother to see it.
Focusing on the heartbreak of Mom's battle with vascular dementia, the column was the most difficult assignment I've ever tackled. So I was relieved to learn later that my candid story helped many readers who are facing similar challenges with their parents.
In any event, I have no idea how the magazine found its way to her apartment. My mother doesn't subscribe to the newspaper that includes Michigan Senior Living as a supplement.
As it happens, Mom's vascular dementia has progressed to the point where she can't process and retain new information. Not all that long ago, she'd devour decorating magazines and mystery novels faster than I could supply her with new editions — but she's lost her ability to read much of anything now. Regardless, I discretely pulled the publication off her table and stuffed it into my tote bag.
Having worked as a family newspaper columnist for years, I've wrestled with similar issues many times before. But this recent episode got me thinking about how risky personal writing can be — whether we're writing about our parents, children, siblings, or in-laws.
How much is too personal?
In "How to Write a Memoir" in The American Scholar, author and creative writing professor William Zinsser offers some excellent advice. "Your first job is to get your story down as you remember it—now," Zinsser says. "Dont look over your shoulder to see what relatives are perched there. Say what you want to say, freely and honestly, and finish the job. Then take up the privacy issue."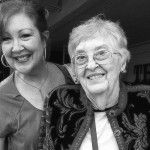 If your relatives are named or clearly identified in print, Zinsser suggests, you may want to show them the pages in which they are mentioned. But be prepared for your family to ask you to remove anything they don't like.
"Finally, its your story," Zinsser says. "Some of your relatives will wish you hadnt said some of the things you said, especially if you reveal various family traits that are less than lovable. But I believe that at some level most families want to have a record left of their effort to be a family, however flawed that effort was, and they will give you their blessing and will thank you for taking on the job—if you do it honestly and not for the wrong reasons."
The "wrong reasons" vary from writer to writer, so it's important to question your own motives when you sit down to write. If youre hoping to commit an act of vengeance, for instance, youre definitely on the wrong track. On the other hand, if you aim to uplift, inform, comfort, or provide a service to your readers, your good intentions will shine through the most painful parts of your piece.
What to leave in — or out
In my own memoir classes, I often ask students to make a list of the most compelling memoirs and autobiographies they've ever read. Did the writers of those memoirs gloss over their most difficult experiences? Were their chapters free of conflict? Were the characters entirely noble, flawless, or problem-free? Probably not. Life is incredibly complex and messy, and no family is perfect.
Even if you enjoy reading other people's dirt and drama, you're probably squeamish when it comes to sharing your own. And it's entirely possible that you might be better off writing poetry or science fiction instead. But if you want to write an honest and richly detailed memoir, you will have to confront the hard truth as well as the soft.
Brett Paesel agrees. Writing without censoring early in the process will usually "produce the freshest, deepest draft," says Paesel, author of Mommies Who Drink and a popular blog, Last of the Bohemians. "As I'm revising, I make choices about what I want a reader to read," she says. "Often, I leave in quite a bit. My family knows what I do and I'm not normally an unkind person."
As Paesel notes, if you don't want your memoir to be "totally soft," it's likely that you'll risk offending someone. "Off the top of my head I can't remember who said, 'If people don't like what you've written about them, they shouldn't have behaved so badly,' but they have a point."
What do you think? Have you written anything about your family that you'd be reluctant to publish? How would you handle sensitive material?
— Top photo: "My Wall of Fame" by Cindy La Ferle —