I believe, with a patriotic sincerity that would make a Legionnaire blush, that American literature is owned by everybody in America….and that we all get to have a say in it." –Carolyn See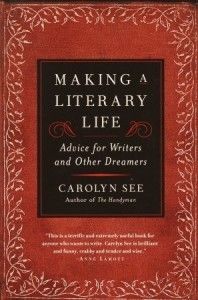 Preparing to coach my writing workshops is almost as fun as working with the students. This week I've been updating my lists of "required reading." If you're truly serious about writing, you need to stuff your bookshelves (and your mind) with top-notch material that inspires you.
It also helps to own a collection of practical guides that explain — in no uncertain terms — how to survive the ups and downs of the writing life. Among my favorites is Carolyn See's Making A Literary Life: Advice for Writers and Other Dreamers.
Carolyn See happens to be the mother of novelist Lisa See (Snow Flower and the Secret Fan) — so it's clear that her advice works. Best of all, she's brutally frank about the whole business of writing and publishing. She'll be the first to tell you, for instance, that while the literary life can be incredibly rewarding, it's often fraught with rejection, stress, envy, and frustration. But she does so with such wit that you'll want to give it a try anyway. To whet your appetite, I'm reprinting some favorite quotes from the book:
On finding people who support you:
"To find people who support your work, it's best not even to think in literary terms but to look for easygoing and open-hearted human beings with a low threshold of embarrassment, who, generally speaking, aren't beset by terror, fear, or what we, out here in California, call a 'scarcity consciousness.' These are people who think there might be enough of everything for everyone, who can consider popcorn for dinner if you're busy working."
On promoting yourself:
"Don't assume that everyone has read whatever it is you've written. Nobody ever reads anything you've written! They've got their own lives to live. If you want someone to read it, send him a copy."
On remaining calm after publication:
"When your first work is published — that story, article, or poem — nobody is going to care except your immediate family, your circle of friends, and maybe your editor. What they really care about, what they're watching for, is whether or not you're going to turn into an asshole. Because the only people harder to be around than failed writers are pretentious jerks."
On learning how to accept compliments or criticism:
"If someone sidles up to you and says, 'I read that thing you wrote in the Daily News a while ago,' you must on no account say, 'What did you think?' Because you might get an answer you don't like. In fact, it's pretty certain you won't get an answer you like unless that someone says, 'It's the greatest thing I've read since the New Testament!' What you say is: 'No kidding!' Which very adroitly bats the ball over into their court and they almost always have to say, 'I liked it." Or, 'It was good. I was surprised!' In which case you say, 'Thank you.' Or if they are mean or competitive enough to say 'I don't know how you got started on such a loopy tangent,' you give them a big amiable grin and say, 'No kidding!'"
Whether you're toying with the idea of becoming a writer, or you've been toiling in literary fields for a long time, this book will make you laugh while it keeps you grounded and sane. No kidding. — Cindy La Ferle