Nobody needs a vacation as much as the person who just had one." — Elbert Hubbard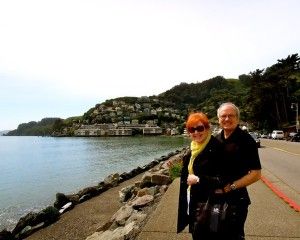 Doug and I are still trying to catch up after returning from California wine country and a cook's tour of San Francisco with our friends last week. Jet lag be damned, I hit the ground running early Thursday morning with jury duty, which, thankfully, took only half a day. And did I mention the essay revision I had to finish for a national newspaper?
On Friday, Nate and Andrea drove in from Chicago for the Easter holiday, and I happily spent much of the weekend cooking for our family. The guys drove to Waltonwood Assisted Living (Royal Oak) to pick up my mom for Easter dinner. Then we all collapsed on the couch with a movie after getting Mom back to Waltonwood for her medications.
I'm always a little sad when Nate and Andrea head back to Chicago, as our visits seem so short and sweet. But I'm grateful for every moment I get to spend with them. (We're knee-deep in wedding plans these days, of course!)
Meanwhile, the herb garden needs to be weeded and I've got to finish The Paris Wife in time for the neighborhood book club meeting this week. So I'll be taking a short break from blogging, but will return soon with more photos from our California trip, a link to a newly published personal essay, and some good news about my book of essays, Writing Home … All in all, I am very excited about starting a fresh season!  How about you? Do you break for spring? — Cindy La Ferle