"Have nothing in your house that you do not know to be useful, or believe to be beautiful." — William Morris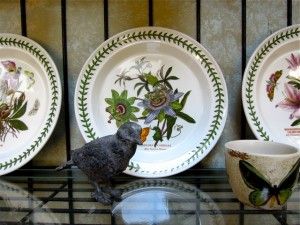 After quitting Facebook and limiting the hours I spend online daily, I've suddenly reclaimed more time to dig into household projects I'd been putting off for ages.
Borrowing my mantra from William Morris, founder of the Arts and Crafts movement, I'm making it my mission this month to eliminate everything I don't find "useful or beautiful." In other words, this goes much deeper than the topic of spring cleaning or tossing mismatched Tupperware.
It's about refurbishing an entire lifestyle.
At first, the very thought of sweeping the whole house at once seemed daunting. So I divided my "Pitch and Purge" project into small, manageable steps. Drawer by drawer, room by room, day by day.
Starting with my home office, for instance, I cleared every scrap of paper and dried-out pen from the top of my desk. Then I tackled the bookshelves, filling two grocery sacks with paperbacks to donate to our public library's annual book sale.
Newly energized by my clutter-free office, I turned my attention to the garden room. One of my favorite spots in our home, the garden room hadn't been redecorated since it was added to our vintage Tudor about 16 years ago. Because it serves as both an eating space and a sunny spot to read our newspapers, I wanted to make the room even more functional and inviting.
This goes much deeper than the topic of spring cleaning. It's really about refurbishing an entire lifestyle."
Clearing every shelf in the garden room, I found additional space to display the Portmeirion Botanic Garden dinnerware we use daily. I gleefully tossed or recycled the knickknacks that were cluttering the tabletops and shelves, saving only the pieces that hold sentimental value. Then I moved some furniture, which opened up more space and makes the whole room look newer, less cluttered. Lastly, in keeping with the room's original purpose, I added a few more plants to cheer us until spring arrives. The plants, in fact, were the only purchases I made in addition to a new set of woven placemats for the table.
Upstairs in the bedroom, I filled 10 garbage bags with clothes and accessories I haven't worn in years. Though I can't bring myself to pare down to the 10 essential pieces listed in Jennifer L. Scott's Lessons from Madame Chic: The Top 20 Things I Learned While Living in Paris, I'm trimming my wardrobe down to several key pieces in a neutral palette. I also pitched an entire bag of shoes that hurt my feet — because life is too short for unbearable footwear, no matter how cute it looks.
When I am not pitching, I'm re-purposing. The cosmetics in my bathroom cabinets and drawers are just a case in point.
Like many women I know, I used to feel guilty about accumulating (and not using) creams and cosmetic samples that don't work for my skin type. Instead of tossing them, I'm giving some of the creams a second life by using them on my hands. By placing these products within easy reach around the house or in my purse, I've freed extra space in my bathroom. An added bonus: The creams that were too rich for my face are now making my hands look nicer. (Note: Liquid cosmetics that are more than a year old may be spoiled and should be tossed.)
I'm nowhere near finished with this project, of course, but I hope it will be ongoing. Every day, I try to look at each room in the house with fresh eyes, then ask myself:  What is useful, what is beautiful, and why do I own it?
As I type this, my soul feels lighter. My possessions have less control over me. My life is less cluttered. And my home, which I've always loved, is bringing me twice as much pleasure.  — Cindy La Ferle
NOTE:  For another spin on the topic of house-clearing, please look for my "Puttering" meditation on page 158 in my collection of inspirational essays, Writing Home.