What this world needs is a new kind of army — the army of the kind and compassionate." — Cleveland Armory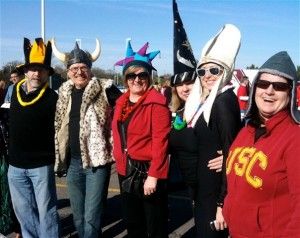 While I don't typically plug fundraisers here, this is a special invitation to support a very good cause.
My husband, Doug, is a board member of the Boys & Girls Club of South Oakland County, and he's inviting everyone to be part of "Walk for the Future" — one of the largest annual events sponsored by the Club. This relatively painless walk-a-thon takes place in our community on Saturday, May 5th.
New to the board last year, Doug decided to shake things up and have some creative fun with the walk. Dubbed The Mad Hatters, the team he recruited for the fundraiser last year had to wear crazy hats. Strolling the course at Beaumont Hospital, we played drums, blew on noise makers and, well, you get the idea. We had a total blast, but best of all, our Mad Hatters team raised several thousand dollars for kids in our community.
This year, Doug's co-captain for the Mad Hatters 2012 team is our good neighbor and family dentist, Dr. Steve Gustafson. The walk will take place at Memorial Park at Woodward and 13 Mile in Royal Oak, beginning at 9:30 a.m. Participants will enjoy free food, refreshments, and activities for kids.
If you'd like to join the Mad Hatters' team on May 5, please click on the link below and follow the directions. If you can't join our "Walk for the Future" but would still like to help our local Boys & Girls Club, this link will allow you to make a donation on behalf of the Mad Matters. 
For general information about the "Walk for the Future 2012," please click here: http://2012walkforthefuture.kintera.org/faf/home/default.asp?ievent=1014437&lis=1&kntae1014437=BC679EAEFF6F4A3B94B647EE1BBD352D
You can donate as little as $5 or as much as $50 million. Or you don't have to give anything but an hour of your time on the walk on May 5th. Don't forget your hat!
Top photo: A few members of our Mad Hatters 2011 team, from left to right: John Schultz, Doug La Ferle, Matilda Benda, Jeanette Roller, Cassandra Roller, Dr. Shari Morningstar.