All photographs are there to remind us of what we forget.   ~John Berger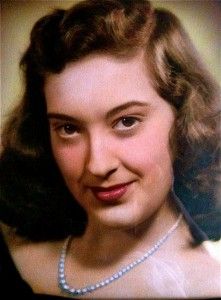 Sometimes I have to rely on the lens of memory to see her as the true beauty she once was.
Waiting for the occupational therapist to arrive, my widowed mother is slumped in a chair in her new assisted living apartment. Her naturally wavy gray hair is long overdue for a good cut, and the navy stretch suit shes wearing is at least a size too large. She looks older than her 81 years.
Mom doesnt seem to care, which is totally unlike the woman she was before vascular dementia began devouring her pride, her self.
Not long ago, she was the sort of woman who wouldnt be seen anywhere without a fresh application of her favorite Estee Lauder lipstick.
Not surprisingly, shes confused and miserable in her new surroundings. She spent a week in the hospital at the end of last year, then another four weeks at a nursing rehab center. She wants to go back to her own condo — now — but I don't have the heart to tell her (again) that this will be her home for a while.
Working with the assisted living staff, I keep trying different things to distract her. I want to help my mother enjoy whats left of her life; to earn back her approval. And I desperately hope to see a glimmer of happiness or a trace of contentment on her face. But as I listen to her litany of complaints and watch her struggle just to rise from her chair, I cant help but wonder if the goal is out of reach.
A museum of her former life

After my visit, I drive across town to retrieve more of Mom's clothing from her condo. As soon as I arrive, I wander each room tentatively, half expecting to find evidence of intruders. Or ghosts.
Gathering dust in her long absence, the whole place is as quiet as a mausoleum. A recipe box sits next to her blood pressure cuff on the kitchen table, exactly where my mother left them the day after Thanksgiving — the day I drove her to the emergency room. There are plates in the dishwasher and an old grocery list on the counter. With no one else living here now, the condo feels like a museum of my mother's former life. And every piece of furniture is a relic of our familys past.
Which is partly why Im overcome by an urge to dig through Moms closet for an album of family photos dating back to her childhood in 1930s.  At first, I tell myself that the photos might trigger some happier conversation with my mother at the assisted living residence.
But in reality, I'm the one who needs to be reminded of the strong, beautiful woman she once was.
An album of another era

Flipping through the album I'd been looking for, I pause at the sepia-toned photo of Mom when she was barely three years old.
I am always moved when I see photos of my parents as children. And while dementia has rendered my mother more helpless than ever, this particular photo shows her at her smallest, most vulnerable self.
In it, Mom is standing bow-legged in a sandbox behind the Indianapolis home of her beloved grandparents, the folks who took care of her while her newly divorced mother was at work. A source of shame in those days, divorce was rarely discussed openly in my mothers household. Much later, shed share stories of how her young father abandoned his new family — right before she was born — and how her grandparents helped support her mother during the Depression.
In the photo, Mom wears a swimsuit and a pair of beaded moccasins. Holding a tiny shovel and a rubber ball, she looks as if she were caught off guard; her smile is more of a question than a statement. Still, theres the twinkle of determination in her dark brown eyes.
The dance of her life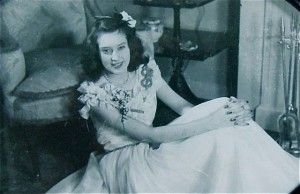 Moms stepfather, who came into her life a few years later, was an amateur photographer. His devotion to his hobby, and especially to my mother, is evident throughout the photo album.
In one portrait, my mother is dressed for a dance. Her prom gown flaunts an artful confection of ribbons on one shoulder – a testimony to my grandmothers talent with a needle and thread. Mom is also wearing a corsage, and I cant help but wonder if my handsome, black-haired father had presented it to her just before the photo was snapped. (My parents started dating after they met at a Presbyterian church youth group in Detroit.)
Because the photo is black and white, I can only guess that her dress is white, or maybe a pale shade of blue. It's likely that her lipstick and nail polish are deep crimson, as dictated by the film stars of the 1940s.
But there's no denying that my mother looks gorgeous and happy in this portrait. The sweet promises of true love, her own home, and a secure family — all she ever wanted — are almost within reach.
It also occurs to me that this album of memories belongs with my mother in her new assisted living apartment, not hidden away in a closet that she probably wont ever open again. So I pack the book in my car along with another bag of nightgowns and a new package of incontinence products.
The following day, when I reintroduce her to the album and its treasures, her eyes light up as if shes seeing the photos for the first time. Her oldest memories rush forward — they never left her, of course — and she recites the names of all the beloved people and places in the vintage photographs. She pauses at a shot of her grandparents and spins another reverie of their beautiful Tudor home on the river near Indianapolis.
I've heard the stories many times before, with or without the photographs, but that's OK. For the first time in ages, my mother is animated and smiling. And her beauty shines through. — Cindy La Ferle