The willingness to share does not make one charitable; it makes one free.  ~Robert Brault
At a holiday book signing last week, I met another author who enjoys all aspects of publishing a book — except for self-promotion. We chatted about the hard realities of keeping our books on store shelves and Amazon.com; about how exhausting it can be to get out there and hustle.
As much as we like to meet our readers, writers tend to be more comfortable recording our thoughts quietly at home. That said, we can't sell books if we hide behind a desk or a laptop.
So, here's my shameless annual holiday plug for Writing Home. For every new copy sold between now and January 1st, I will donate $5 to the Welcome Inn, a day shelter serving the homeless in my community from mid December until mid March. The Inn offers case management services, a cereal breakfast, hot lunch, showers, laundry, online computers, clothing, and a variety of other services. With southeast Michigan's economy at an all-time low, things are even tougher for people without homes and jobs, not to mention organizations like the Welcome Inn.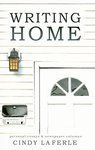 I've been donating my Writing Home profits every holiday season because "home" has always topped my gratitude list — and I want to give back to my community. I've been blessed, all my life, to live in wonderful homes with an incredibly supportive family, surrounded by caring neighbors. Which is, pretty much, what the stories in Writing Home are all about.
If you're looking for something under $20 for the reader on your gift list, please consider visiting Amazon.com and buying a new copy of my book. (Link provided above.) In Oakland County, stop by the Yellow Door Art Market, where you'll find my book as well as other gift items made by professional Michigan artists.
From my home to yours, I am wishing you a wonderful Thanksgiving — and many blessings to count.
–Holiday photo by Cindy La Ferle-