We are shaped by our thoughts; we become what we think. When the mind is pure, joy follows like a shadow that never leaves. — Buddha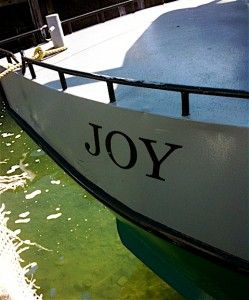 Visiting historic Fish Town in Leland earlier this week, I was charmed by the sight of this small fishing boat docked behind The Cove restaurant.
Even when I'm on a beach vacation, my mind occasionally wanders back to the worries and obligations waiting for me back home. But the aptly named fishing boat reminded me to stay focused on the small joys and simple pleasures that make me happy.
Coincidentally, I found this perfect passage in today's "Daily Om" (June 8): "Our souls feel good when we go with the flow of the universe. All we have to do is to make the choice to ride its currents."
Wherever you are, enjoy the ride! -CL
–Photo by Cindy La Ferle–