All fine architectural values are human values, else not valuable." — Frank Lloyd Wright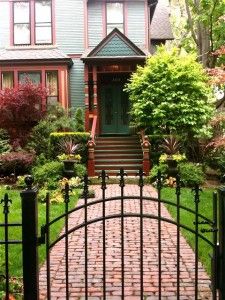 If someone were to ask me what I think heaven looks like, my answer would have to be "Oak Park, Illinois." Its peaceful tree-lined streets, lush gardens, and heirloom lilac stands are the perfect backdrop for dozens of beautifully preserved Victorian mansions and, of course, some of Frank Lloyd Wright's best residential work.
Though Doug and I have visited Oak Park in the past, we experienced its famous "Wright Plus" house-walk tour for the first time this weekend. The Birmingham Community House offered an overnight tour package we couldn't resist — and I highly recommend that you book it next spring if they offer it again. The tour was tightly organized, and despite the inevitable long lines to view the interiors of the selected homes, it was blissfully easy and stress free. I love it when other people handle the details, including hotel accommodations, admission fees, and lunch tickets.
According to the Frank Lloyd Wright Preservation Trust, which is responsible for organizing the "Wright Plus" walking tours, Oak Park experienced a construction boom in the years after Chicago's tragic 1871 fire.
The railroad connecting Oak Park to bustling downtown Chicago made Oak Park the ideal Victorian suburb for the wealthy to raise their families and cultivate the good life. Arriving in Oak Park as a 22-year-old newlywed, Wright began his own career here — and the rest is architectural history.
Eventually, I think Chicago will be the most beautiful great city left in the world." — Frank Lloyd Wright
While Wright's residential gems and his Unity Temple make Oak Park famous, Doug and I were equally awed by the Victorian homes designed by Wright's early contemporaries. Between visits to the homes, I took time out to admire the manicured gardens throughout in the neighborhood. Since we live in a 1926 Tudor on a shade-covered lot, I'm always looking for new gardening ideas — and Oak Park didn't disappoint. I took just as many photos of gardens as I did of grand old homes. And I was, pardon the cliche, green with envy.
As nostalgic as a chapter from Ray Bradbury's Dandelion Wine — and boasting its fair share of generous wraparound porches — Oak Park evokes a gentler era we can only imagine. Three cheers to the dedicated homeowners who've renovated these homes and continue to welcome thousands of visitors to their neighborhood. –CL
— All photos by Cindy La Ferle. Please click on the images to view larger. —