Cheers to a new year and another chance for us to get it right."  ~Oprah Winfrey
Though I'm not big on New Year's resolutions, I've always loved how January nudges us toward self-improvement and encourages fresh starts. The month, after all, is named for the two-faced Roman god, Janus, who's always depicted looking backward and forward. Janus seems to remind us that we should pause long enough to consider the events that brought us to the present moment before we start something new.
My father-in-law died of Alzheimer's in June. As you probably recall from previous posts, the months preceding his death were especially tough on Doug. There were grueling decisions that involved finding the right nursing home for his dad as well as helping his mother with the changes in her household and finances. In retrospect, I was so involved with the upheaval in my own mother's situation, that I don't think I offered as much emotional support to my husband as I should have.
And isn't that always the case when we are preoccupied with our own stuff? We turn inward and neglect others who need us — especially when the others who need us appear to be handling things well enough on their own. That's something I need to remember and work on in the year ahead. Because people who have strong arms sometimes need a helping hand, too.
Meanwhile, this week, we completed the last of four appointments for my mom at the Beaumont Geriatric Evaluation Clinic. Offering health-care and lifestyle consultation for the elderly and their caregivers, the Clinic put my mother through a series of tests (including a neuro-psychological interview) in addition to a complete physical. The good news: My mother's memory loss was re-diagnosed as vascular dementia, not Alzheimer's. Regardless, dementia is dementia, no matter which label you paste on it.
My mother is in the milder stage, and still capable of caring for herself in her condo with minimal assistance. Even so, I've been told that putting Mom in an assisted living facility would make things much easier for me. But Mom loves her home — it remains one of few things she's genuinely enthused about — so I'm honoring her wish to stay there as long as possible.
The bad news: Once a patient is officially diagnosed with any type of dementia, there are serious liability issues when it comes to allowing that patient to drive. So, early in the evaluation process last year, the doctors suspended my mother's driving privileges. She never drove very far, anyway, but she's nonetheless freaked about having her wings clipped. The final verdict will come after Mom completes an official driving test to be conducted at another Beaumont Hospital facility in a couple of weeks. Ah yes, more appointments.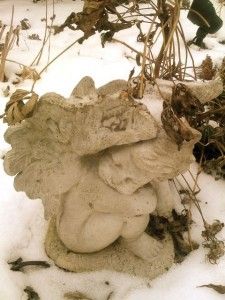 Even when we're adults with kids of our own, and even when we uphold our most noble intentions, most of us secretly struggle with the idea of becoming parents to our parents. For the past two years, Mom's doctors have asked me to show up at her appointments, oversee her medications, and supervise her health-care decisions. I haven't minded that half as much as I've mourned the loss of my real mother — the strong, capable woman she used to be. These days she's like a surly teenager riddled with anxiety. It all makes me sad and angry and, mostly, emotionally drained … which is another thing I need to work on this year.
It does get better, though …
When I tally up some of the year's happiest moments, I recall the good friends who've been at the ready with a listening ear and a willingness to meet for lunch, dinner, or drinks. Or heartfelt conversations on the phone. As an only child, I don't have much of an extended family to speak of, so having longtime friends who function like a true family has been more valuable than I can express in words.
And in the fun department, Doug and I continued the recreational foray into background acting we began in September of 2009. Between the two of us, we've been in 14 different film and television productions to date. We continue to support the film industry in Michigan, and hope our new Michigan governor will see the benefits of hosting Hollywood here.
Writing-wise, I didn't start many new projects. Like the dormant plants under the snow in my garden, my muse was sleepy, or maybe she was deliberately giving me extra time to focus on my mom's health care. I did manage to get a new essay published in Victoria, and several of my previously published essays were chosen for national anthologies. Guideposts gift books, for instance, published a Christmas piece (from Writing Home) in The Heart of Christmas. It was a thrill and an honor to see my work in a collection containing writings by Sue Monk Kidd, Pearl S. Buck, Marjorie Holmes, and others whose work I've admired. And in the fall, I was hired to write a weekly column for Royal Oak Patch, one of AOL's hyper-local online newspapers.
After a long day with my mom earlier this week, I came home and crashed with a book in one of the big chairs in the living room. Doug and I had taken down the Christmas decorations the day before, and it was a relief to see the mantel and tabletops cleared of elves, angels, pine boughs, and other holiday doodads. I was reminded once again that, when life gets more complicated than usual, the sanest thing you can do is to clear some space, cut back where you can, and focus only on the essentials.
Wishing you all a wonderful, healthy New Year. — Cindy La Ferle
— Winter garden photos by Cindy La Ferle —