Old as she was, she still missed her daddy sometimes."  ~Gloria Naylor
This short essay first appeared in the Daily Tribune (Royal Oak, MI) on Father's Day, 1994, and is included in my story collection, Writing Home. If you're lucky enough to have your dad around this Father's Day, please give him a big hug from me. –CL
Dad's last photograph
It's my favorite photograph of Dad and me — one of those priceless family icons I'd rescue if the house caught fire. Taken on Father's Day in 1992, it reveals the totally uncomplicated relationship we'd enjoyed right up to the moment the shutter clicked.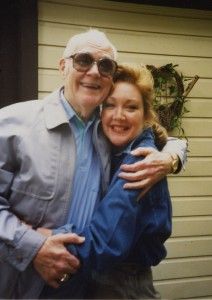 I use the word uncomplicated because I cant think of a more lyrical way to describe my father or the way he lived. Even when pop psychologists urged us to scrutinize our parents and find them suspect, I saw my dad as a patient man whose agenda was rarely hidden. He was the kind of guy who appreciated most people just as they were, and I think that's what we all loved best about him.
But let me explain the photograph.
Dad and I were standing on my back porch, having just finished the surprise Father's Day dinner I'd hosted for him and my father-in-law.
Dad wore a pale blue windbreaker and an outdated pair of glasses that somehow looked right on him. My hair was orange, thanks to a failed experiment with a drugstore highlighting kit. The late afternoon sun shimmered through the maples in our yard, and my mother was anxious to finish the film left in her camera.
Dad and I hugged tightly for the shot.
He was sixty-five and grinning — despite the grim diagnosis of degenerative heart disease he'd been given a few months earlier. At thirty-seven, I was newly unemployed and unsure of my career path. The travel magazine I edited for nearly six years had folded abruptly, dropping me off at midlife without a new map. Still, summer had arrived and we were optimistic. Dad's diabetes was under control, or as he put it, he'd been "feeling pretty darned good lately."
Better yet, the ball games were in full swing. It wasn't shaping up to be a stellar season for the Tigers, but Cecil Fielder and Lou Whitaker were giving it their best. (While I never shared my dad's religious devotion to baseball, I still can't hear the crack of a bat against a ball without remembering the old transistor radio he kept tuned to his games.)
But theres something else about the photo. Looking at it today, youd never imagine the two of us had a major-league concern beyond what we'd be eating for dessert that evening. Nor would you guess that this 35mm print chronicled one of our last days together.
The inevitable phone call came two weeks later on a Monday morning: "Your dad collapsed in the driveway. The ambulance is coming."
So this week I'm very grateful for that luminous Father's Day afternoon ten years ago — grateful I hadn't waited another day to throw my dad a surprise party. I usually postpone my good intentions, adding them to a long list of things I plan to do later.  Later, when theres more time…
"Today is the only time we can possibly live," wrote Dale Carnegie, whose work my father read often and admired. I see now that Carnegie's philosophy is gleefully captured in my father's grin, which my mother wisely captured on film. — Cindy La Ferle