When you have raised kids, there are memories you store directly in your tear ducts." — Robert Brault
Today's essay first appeared on Mother's Day 2004 in my Sunday column in The Daily Tribune of Royal Oak. At the time, my son and his longtime friends, a.k.a. "The Crew," were preparing to graduate from high school. This piece is dear to my heart, so I'm sharing it with all of you in celebration of Mother's Day. — CL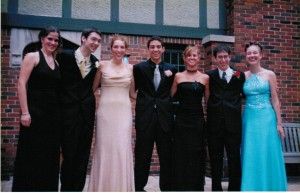 All My Children
When people ask me how many kids I have, I tell them I've lost count. This might sound strange or irresponsible to most parents, but some of you know exactly what I mean.
If, like me, you're the parent of an only child, you've probably invested a lot of time scouting for playmates to foster some pseudo sibling rivalry in your own backyard. To entertain an "only," you often have to play Pied Piper to the neighborhood kids.
But I look back fondly on the years I made our home kid-friendly and child-proof, and I like to think I became a more patient parent while getting to know and love other people's children.
So I like to remind all of you younger moms that it's really worth the effort to host as many playmates as you can. Keeping extra snacks on hand is always a good start. But you also need to lower your standards for house and garden.
One summer, for instance, my son and the neighborhood kids decided to build a fort out of discarded appliance boxes. Raiding parking lots and trash piles, they collected enough scrap metal and cardboard to make our entire yard look like a temporary shelter for Royal Oak's homeless population. Occupying our property for weeks, the fort was a tribute to inventive teamwork. Still, I was amazed our neighbors never complained about its lack of curb appeal.
Later, in the middle school years, the kids developed a burning interest in chemistry, often using our home as their laboratory. There was the time my son and a buddy decided to make their own paper pulp in the basement, for instance. Using an old 10-speed blender, the boys pulverized newspaper scraps in a perilous base of water and craft glue. One of them forgot to put the top on the blender, and the resulting glop still decorates half of the basement ceiling.
Our home was also frequently chosen as a location for school video projects. I don't recall where the kids obtained all the pyrotechnics they used for special effects, but the final footage was typically awesome. One year, after the crew filmed Macbeth for an English lit class, I spent several days picking melted candle wax from the Oriental carpet in the hallway.
Believe it or not, I'm really going to miss all of this. As the old cliche goes, kids grow up way too fast. By the time you've finally figured out how to spell baccalaureate, they are packing for college and you're praying they'll come back to mess up your house all over again.
Next Sunday I'll be watching the graduation ceremony for Shrine Catholic High School's Class of 2004. There will be tears and accolades and promises to keep in touch. There will be words of gratitude for teachers and school administrators — and for all the parents who created a real extended family for these kids.
Decked in cap and gown, my son will pose for photographs with the talented young people who have graced the past thirteen years of his life. I will add these to our family albums, which are already bursting with earlier photos of the same kids dressed up for Heritage Day, bike parades, Halloween contests, prom nights, and homecoming dances.
I've also kept a nostalgic stash of notes from these youngsters. Some are thank-you cards for special gifts, impromptu field trips, or birthday parties. There's even a heartfelt letter of apology for the spilled candle wax from Lady Macbeth. Re-reading these notes never fails to touch me, and I couldn't be more proud.
They say it takes a village to raise a child, and I've never doubted this maxim. But I have also grown to believe it takes a village to raise a mother. — Cindy La Ferle
___________________
Originally published on Mother's Day 2004 in The Daily Tribune of Royal Oak, this essay was reprinted in Hometown America (Ideals/Guideposts; 2008) and is included in my own collection of essays, Writing Home.
Top photo: "The Crew" dressed for senior prom, posing on our front porch in 2004. My son is the tall guy, second from left. Bottom photo: "The Crew" at a summer BBQ in 2008, after college graduation.