Whenever anyone reads his words the writer is there. He lives in his readers." — William S. Burroughs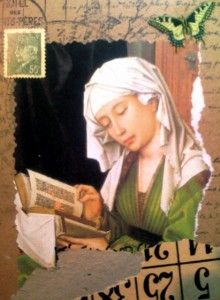 Creative writing teachers often preach: "Write for yourself" and "Write what you know." Good advice, yes. Still, most of us hope to build a readership. We write to make a connection with others.
Working as a weekly newspaper columnist, I was lucky enough to acquire a built-in audience — a strange and wonderful relationship. Most of my readers lived in my community, so I couldn't hide behind a desk for long. I'd bump into them in the produce aisle at the grocery store or in line at the post office. Or in church on Sunday. Some would pull me aside to discuss what I'd written in the paper; others e-mailed or wrote letters to express their own thoughts on the topic of the week.
Billy Collins has addressed several of his poems to his readers, proving that he's ever-mindful of our presence, even though we don't live in the same town. He makes us ponder the complex relationship between writer and reader. In the funny, wistful poem below, Collins also reminds us that it's the poet's duty to "notice" the humblest details and to weave even the most ordinary experience into a piece of writing. Are you the poet — or the reader?  — CL
YOU, READER
By Billy Collins
I wonder how you are going to feel
when you find out
that I wrote this instead of you.
that it was I who got up early
to sit in the kitchen
and mention with a pen
the rain-soaked windows,
the ivy wallpaper,
and the goldfish circling in its bowl.
Go ahead and turn aside,
bite your lip and tear out the page,
but, listen — it was just a matter of time
before one of us happened
to notice the unlit candles
and the clock humming on the wall.
Plus, nothing happened that morning —
a song on the radio,
a car whistling along the road outside —
and I was only thinking
about the shakers of salt and pepper
that were standing side by side on a place mat.
I wondered if they had become friends
after all these years
or if they were still strangers to one another
like you and I
who manage to be known and unknown
to each other at the same time —
me at this table with a bowl of pears,
you leaning in a doorway somewhere
near some blue hydrangeas, reading this.
— Reprinted from The Trouble with Poetry: And Other Poems, by Billy Collins (Random House); 2005. —
— Photo detail from "Reading" (a mixed-media collage) by Cindy La Ferle —
APRIL IS NATIONAL POETRY MONTH. If you enjoyed this poem and want to read more, check out the archives in my weekly "Poems to Inspire" series under "Categories" at right.