I found I could say things with color and shapes that I couldn't say any other way – things I had no words for." ~Georgia O'Keeffe
Until recently, I was a bit shy about entering my altered art pieces in contests and competitions. More complex than my writing, my artwork is intensely personal — a messier way of making sense of my fantasies, doubts, fears, and dreams.
Writing is work. When people ask me what I "do," or if they insist on labeling me by career or profession, I usually tell them I'm a writer or a journalist. While I dearly love to write, I also admit that it's incredibly hard work. The business savvy required to get published and paid for it — pitching new material, marketing, promoting, building a platform, facing rejection, and starting over again — is enough to make me seriously doubt my sanity for choosing a writing career after college.
But making art is pure pleasure, my recreational sport. Of course, there's a huge difference between a viable profession and a crazy good hobby. And I know that if I ever opt to sell my artwork or get it published, I'd have to add yet another layer of complexity to the whole collage. So, what I'm really trying to say is this: I'm incredibly stingy with my artwork.
My artist-husband, whose paintings have been accepted in many top competitions, is my biggest cheerleader. He pushes me out of my comfort zone. At his urging, this year I entered the 28th annual Michigan Fine Arts Competition at the Birmingham Bloomfield Art Center — and two of my pieces were accepted. When this sort of thing happens, I'm always honored and surprised.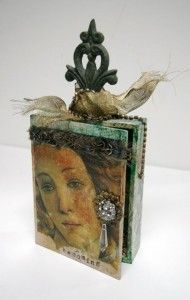 "Becoming," one of the pieces in the show, was inspired by May Sarton's poem, "Now I Become Myself." If you've been following my poetry series, you know what an uplifting and validating poem it is.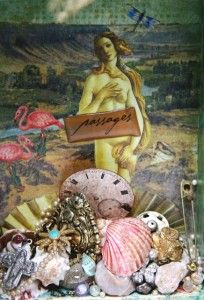 "Becoming" originally served as a greeting card box. I altered the interior and exterior of the box with layers of acrylic paint, prints, tissue paper, and "found objects" from my flea market raids. I added a copy of May Sarton's poem to the back of the piece.
Using more found objects — junk jewelry, sea shells, old buttons, a religious medal, and my old Girl Scout pin — I created a 3-D collage inside the box. Botticelli's "Venus" was clipped from a magazine print to represent the self reborn. Just as we're all the sum of our life experiences, Venus rises from a pile of junk and treasure and becomes herself. Life, like art, is all about working with what you've got, and sometimes mining gold from the broken parts.
The other piece in the show, "Renaissance Woman" (top and bottom photos) is an altered children's board book collaged with vintage dress patterns, sewing notions,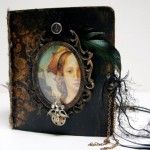 broken costume jewelry, feathers, and old prints. I'm thrilled that both of these pieces were chosen for the show, as together they work as a tribute to all creative women.
The BBAC exhibit runs from April 2 through May 7 and is open to the public. For exhibit hours and directions to the BBAC, please visit the Web site.
— Cindy La Ferle
–For a larger view of these art pieces, please click on each image. Photos and artwork are copyrighted (2010) by Cindy La Ferle. —