"Nature has undoubtedly mastered the art of winter gardening and even the most experienced gardener can learn from the unrestrained beauty around them." — Vincent A. Simeone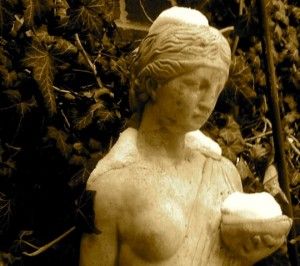 Of course, I'd rather be gardening on my knees — on the soft green lawns of May and June.  But being an optimist, I try to look for beauty in unexpected places, including my Royal Oak garden in the winter.
I love how the snow dresses the statuary in and around the beds. (Friends unload their garden treasures in my yard when they downsize, knowing how much fun I have with them.) I love the pure stillness of the winter-white air, and how the Zen garden looks more contemplative with less foliage.
The holiday lights are packed away now, but January brings its own subtle beauty to the landscape. It invites us to rest and reflect. Gardening, after all, demands back-breaking chores that start in April and don't end until mid-November. As garden writer Ruth Stout observed, only in the winter "can you have longer, quiet stretches when you can savor belonging to yourself." –CL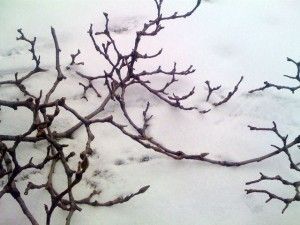 — Garden photos (copyrighted) by Cindy La Ferle. For more photos of my garden in winter and summer, visit my "Garden Magic" and "Winter Garden" albums on Facebook. —