It takes courage to grow up and be who you really are." — e.e. cummings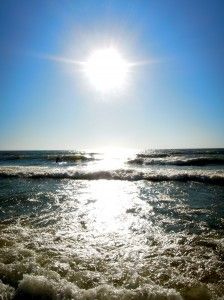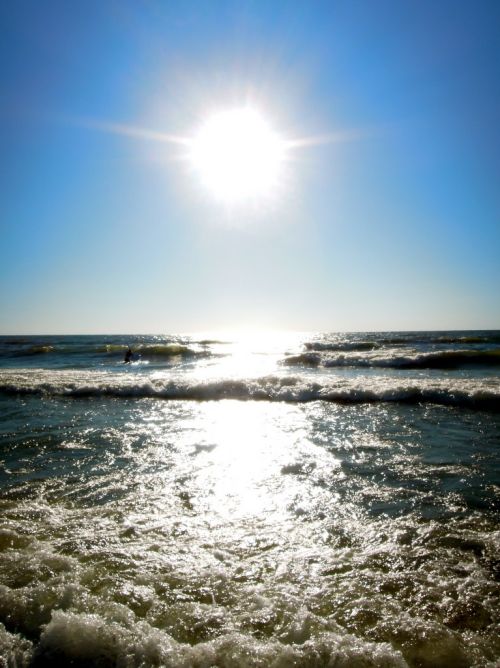 For me, the highlight of vacationing on Lake Michigan is the rare chance to collect my wits and a few beach stones.  Adventurous souls will dive into its frigid waves or skim its surface on motor boats and jet skis, but I'd rather mine the shore for treasures.
Morning is the best time to hunt for beach stones. The water is usually calm, your outlook is refreshed, and, if you're really lucky, fellow beachcombers are still asleep. Rising with the sun, you'll get first pick of the gems that rolled in with the tide.
It's always a thrill to uncover exceptional Petoskey stones, which are rare these days. But don't overlook the subtle beauty of milky quartz, and keep an eye out for perfect skipping stones that were tumbled smooth by the waves.
Look closely, and you'll find beach stones imprinted with fossils, some bearing an uncanny resemblance to ancient tablets carved with runes or hieroglyphics. Others are miniature works of art — and you'd swear they'd been painted by an Asian calligrapher. As many Northern Michigan jewelers have already discovered, some of these beauties are worthy of stringing on a necklace.
During a recent visit to the Sleeping Bear National Lakeshore, where I celebrated my fiftieth birthday, it occurred to me that collecting beach stones is a bit like crafting a life. You have to remain grounded and focused, yet always open to new possibilities.
For starters, you need deep pockets to collect your bounty. And you must begin your quest believing that you'll be rewarded with more than you bargained for. If you focus solely on the obvious — Petoskey stones, for instance — you might miss the other jewels of the lake. In my search for something rare or perfect, I've nearly overlooked other stones of beauty and character.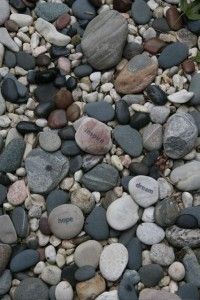 And as every seasoned beachcomber knows, the rippling water teases like a mirage, making it hard to see things as they really are. I've rescued many stones that looked tempting under water, but were lackluster when they dried in the sun. Some were merely pieces of beach glass.
Selecting beach stones, in fact, is a bit like choosing what is essential in life: friends, partners, schools, career paths, a church, and a place to call home. It's wise to make these choices slowly and carefully; to consider what feels right, lasting, and true.
As the cliché goes, it's possible to have too much of a good thing, and beach stones are no exception. I always end up with too many, and have to edit down my finds to an exemplary few. Otherwise, I'd need a gravel truck to haul them back to Detroit.
This is a lesson I need to apply at home, too.
I tend to hang on to some things longer than I should — outdated clothing, fair-weather friends, silly grudges, bad ideas, hairstyles, broken tools, receipts, and stale opinions. And over the years I've tolerated things I should have protested, including dumb TV shows, insensitive comments, junk food, energy vampires, unfair wages, and degrading articles in women's magazines.
Wandering the shore at sunset, I ask myself: What's truly essential now? How much of what I buy do I really need? How can I make better use of my time and the blessings I've been given? And what in this overbooked/ over-connected world of ours is most in need (or deserving) of my attention?
Collecting beach stones, I'm reminded that the second half of life offers the freedom to choose again — to polish, edit, refine and reconsider.
Once again, I empty my pockets before returning home.
This essay is reprinted from my essay collection, Writing Home. It appeared in slightly different form in my Daily Tribune "Life Lines" column in August 2004. Photos are of Lake Michigan (top) and a detail from my Zen garden in Royal Oak. TO ORDER A COPY OF WRITING HOME in Kindle or paperback, CLICK HERE.