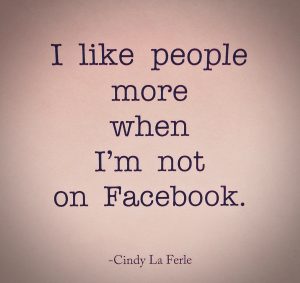 UPDATE: February 3, 2017. I'm taking a break from most social media networks. Last year, in the heat of the presidential election, Facebook and Twitter created distance, disappointment, and animosity in too many relationships.
I deactivated my Facebook account indefinitely, and suspended my Twitter account as well. I believe it's wiser to limit the sharing of political views to a much smaller circle of friends and loved ones — and to be more discerning about sharing my private life.
Meanwhile, I'm posting daily on my photo blog, Something Beautiful Every Day. This year-long creative project focuses on the beauty and magic of ordinary moments, and will end on March 23, 2017. The blog features daily inspirational quotes paired with my photography.
I also post on Instagram. I find that visual beauty is both a comfort and an escape from the current political climate that eats away at my soul.
More than ever, I celebrate the art of real conversation — person-to-person. After I quit Facebook, I made an effort to spend time rebuilding old friendships and discovering new ones. I believe that friendships thrive on consistent nurturing and lots of facetime. Long live the local diner and backyard chats with friends and neighbors!