This week, while looking for an arborist to identify and treat our diseased Bradford pear trees, I remembered a column I wrote about the trees in 2004 for The Daily Tribune (Royal Oak, MI). If you don't believe that trees can be part of our sentimental landscape, please read on …
Trees and Memories — May 24, 2004Â 
Trees add so much more than shade and property value to our homes. Last week, on the boulevard across the street, a trio of Bradford pear trees burst into snowy bloom. Surrounded by smaller stands of lilac, the pear trees are the first to flower in the spring. I look forward to their annual display in late April, and am always relieved when I return from spring vacation to see I haven't missed it.
While it might not seem like such a big deal to anyone else, I'm proud of this contribution to my neighborhood landscape.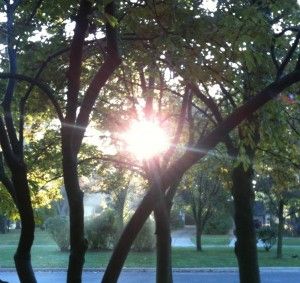 My little grove began with a single tree, which I ordered from the City of Royal Oak the first spring in our present home. In subsequent years I added two more Bradford pears. Today, everyone in our immediate family is represented by a flowering tree.
Like the three of us, each tree has filled out over the past twelve years — a natural reminder of how quickly we're all changing. Nate was in kindergarten when the first spindly tree was planted, and in two weeks he'll graduate from high school. Come fall, the foliage on our pear trees will turn bright orange, then crimson. And just as I do every year, I'll admire the color show from our dining room window and console myself with the fact that everything, including the landscape, is evolving right on schedule.
In our back yard now, there's a newly vacant space where a magnificent white pine once stood. The pine had set down roots several years before we moved here. During a visit with our home's previous owners, we learned that the pine — which had split into three distinct trunks — was a monument to the family's three children. They told us they'd named it The Trinity Tree, and had even buried a beloved pet beneath it. Sadly, their Trinity Tree started dropping needles and showing other signs of stress two summers ago, but neither my husband nor I knew how to save it.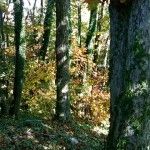 And I wasn't ready to take it down. Around its base I had planted what I called a "sacred garden" of lilies and bleeding heart, complete with a garden statue of Saint Anthony. I especially enjoyed this view of The Trinity Tree from the sunroom. By this time, it had established itself as part of my own family's history, too.
But last month a tree specialist confirmed the pine was dead and had to go. Fighting tears, I watched from the sunroom window as a team of workers methodically severed all three trunks, section by section, and removed them from the yard. Later, while pulling Saint Anthony from the rubble, I remembered he is the patron saint of barrenness and lost articles.
Citing a recent study conducted by the University of Illinois, Maria Rodale noted in Organic Style magazine that people who live near trees have stronger family ties than those who live in treeless areas. "Trees create a sanctuary around us," Rodale noted. "They certainly make us feel grounded and safe."
I'm not sure what I'll plant to replace The Trinity Tree and the trampled garden left behind. This is a fragile time. For now, I'm preparing for Nate's high school graduation and savoring the last of the blossoms on the pear trees before they give way to summer's sturdier foliage. — Cindy La Ferle
* Originally published in The Daily Tribune (Royal Oak, MI) in 2004, this piece is included in my column collection, Writing Home. You can read reviews of the book and order it online by clicking the link provided at the top of this page. *