Cindy La Ferle on August 2nd, 2013
Someday man will travel at the speed of light, of small interest to those of us still trying to catch up to the speed of time." ~Robert Brault
I'm taking time off for my birthday this week.  Meanwhile, here's a favorite end-of-summer piece that resonates with parents facing the empty nest. First published as a newspaper column in August 2003, it's included my book, Writing Home. Here's a toast to the end of one season and the start of another …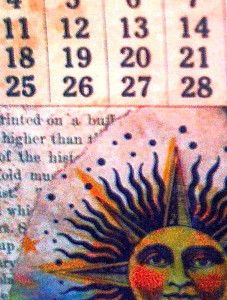 Lately it seems as if I've swallowed summer in one big gulp, like the last swig of Long Island iced tea on a scorching afternoon. I wish I had more in my glass.
I turned forty-nine this month, and already I'm wondering how to make forty-nine last as long as I can possibly stretch it. I plan to age gracefully — no dragging my heels into my fifties. I'd like to become one of those plucky old women who wear purple and "learn to spit," as the Jenny Joseph poem goes.
But not so fast.
Recently, my son Nate and I were having a mock philosophical discussion about the velocity of time. He was anxious for the arrival of the new family car we'd ordered, which had been delayed in production. To him, the days weren't accelerating fast enough; time was stalling like a faulty engine. Later he complained that summer break was ending too quickly.
His senior year of high school started last week, and I'm still trying to wrap my mind around that idea, too. We've been shopping for colleges since May, and applications will be mailed soon.
Just one more year.
Another mom, whose only child is my son's age, also tastes the bittersweet tang in this last swig of summer. Our lives will change too, she reminds me, when high school ends.
This will be the last year we rush to nuke meals in time for play rehearsals and tennis games.
This will be the last year we quit work early to snag front-row seats at concerts and award banquets.
This will be the last year we snap photos of our kids in tuxedos and prom dresses. And the last year for school uniforms, bagged lunches, bake sales, teachers' luncheons, fund-raisers, permission slips, and field trips.
Of course, there's the sweet ring of freedom in all of this, too. Don't think it hasn't occurred to every middle-aged parent who stands teary-eyed on the same threshold.
I chose to work at home when Nate was younger, combining freelance writing with Tiger Cubs and carpooling. Later on, I tried to stay involved in high school activities. Meanwhile, I've put a few dreams on hold, not to mention the career goals I've filed away. I've looked forward to the time when I can start my day without checking the school calendar. But I'll miss other aspects of having a kid in school. I'll miss the sense of community I've felt while comparing notes with other parents; I'll miss all the Mother's Club meetings and school conferences. And I'll miss the incomparable satisfaction I get every time I work on projects for young people.
This hit me on the long ride home from the campus of the University of Notre Dame, which I toured earlier this month with Nate and three of his closest friends – Andrea, Lauren, and Ryan. Though I've known these kids since they were small, it had been a while since we'd spent so much quality time in my compact station wagon. Between long stretches of road construction, periodic rain showers, and the Bare Naked Ladies blaring on the CD player, I remembered how much I've enjoyed the easy laughter and awesome energy of these kids. And I'm excited about this next phase of their lives.
But whether they head for Notre Dame or Michigan State next fall, I'm going to miss them. A lot.
As we drove closer to suburban Detroit, my backseat crew quieted down. The sky cleared, and one of the richest sunsets I'd ever seen suddenly appeared in my rearview mirror. My right foot instinctively moved toward the brake pedal – as if that would make it last a while longer. I didn't notice the cars tailing me on the expressway until Nate pointed out that I was driving like an old woman, way below the speed limit.
Just one more year. Pour it slowly, please. –Cindy La Ferle
If you enjoyed this essay, you'll find more like it in Writing Home, now available in print and Kindle editions. To purchase the book locally, see the box at the top of this page.