"There's never enough time to do all the nothing you want." — Bill Watterson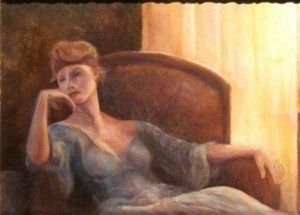 Last Friday, I had oral surgery to remove part of an infected bone in my lower jaw, under my tongue. The ordeal wasn't quite as grisly as I'd anticipated — but I felt out of sorts for a few days while the anesthesia wore off and the surgical wound began to heal.
I'd been advised in the home-care instructions to "avoid over-exertion" through the following week, which, to me, was a pink permission slip to indulge in guilt-free puttering.
Cheaper than air fare or psychotherapy, puttering lets your mind wander while your body hangs out around the house. And unlike housecleaning, which involves physical energy and high-powered appliances, puttering puts you in a Zen-like state of bliss.
Not to be confused with slacking, procrastinating, fidgeting, or fiddling, puttering is good for mental health. But sadly, ours is a goal-directed, work-till-you-drop culture in which "putter" isn't recognized as an empowering verb. Most of us prefer to boast about how terribly busy we are, so puttering is rarely easy to pull off.
For those who practice on the sly — or following a doctor's orders — puttering styles are varied and highly personal. Puttering can be the act of sorting through a box of college textbooks in the basement; tinkering under the hood of an old Chevy; or rearranging things on a shelf while you listen to jazz on public radio. In other words, puttering is a way of clarifying life's myriad details, especially when it's done with reverence for the objects at hand. It's an opportunity to reconsider what we most enjoy in our homes, and to make a mental list of what we'd like to edit later.
If puttering still sounds like a chore you've postponed, it's only because you haven't found a method that cheers or relaxes you. One man's notion of drudgery, after all, can be another's idea of soul craft.
"I can't explain it, but I enjoy doing dishes," writes Thomas Moore, a former Catholic monk and author of the best-selling Care of the Soul. "I've had an automatic dishwasher in my home for over a year, and I have never used it. What appeals to me, I think, is the reverie induced by going through the ritual of washing, rinsing, and drying." Â Thomas Moore can come over to my house and wash dishes any time he visits Detroit (especially if his visit coincides with another power failure). Meanwhile, I'll keep loading my dishwasher.
Still, there's merit in savoring the ordinary tasks of daily living.
A lot of us spend our lives reaching for lofty goals, or at least trying to look productive 24/7. This wouldn't be such a bad thing if so many of us weren't scratching our heads and feeling as if something's missing — even after we've won all the trophies.
"My life has no purpose, no direction, no aim, no meaning, and yet I'm happy. I can't figure it out. What am I doing right?" observed Charles M. Schulz, creator of Peanuts.
Charlie Brown, after all, was pretty good at puttering.
–Top illustration: a painting by my husband, Douglas La Ferle. —