Memory is a way of holding onto the things you love, the things you are, the things you never want to lose."  ~From "The Wonder Years"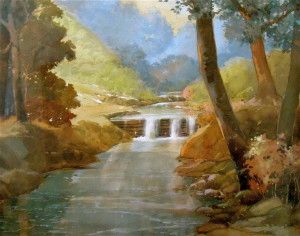 Several years ago, I decided to write a St. Patrick's Day column about my mother's beloved Grandpa Finney, the son of an Irish immigrant.* I knew he was a moderately successful watercolor artist — and one of the most eccentric characters perched on our family tree — but I needed more material for my piece.
Turning to Mom for help, I asked her to jot down a few memories of her grandfather. Thrilled by the invitation, she gathered a handful of vintage family photographs and got to work. Her four-page letter recounted poignant stories of how Grandpa Finney struggled to make a living as a commercial illustrator during the Depression, working such long hours that he'd often fall asleep at his drafting table.
I only wish I had asked my mother to do this more often. In recent years, vascular dementia has robbed or altered most of her memories, and she has no living relatives to share any family anecdotes left untold.
Since then, I've come to believe that our life stories are the most valuable legacies we can leave our loved ones — and that it's never too early to start writing them down.
Once you commit to the project, you'll want to create a "memoir file" in your computer. Inspiration is unpredictable, so make a habit of keeping your favorite pen and a notebook handy, too. But before you begin, it's important to understand the difference between autobiography and memoir.
"Memoir isn't the summary of a life, it's a window into a life, very much like a photograph is selective in its composition," William Zinsser explains in On Writing Well: An Informal Guide to Writing Nonfiction (Harper Perennial).
In other words, your autobiography would document your entire life, starting with your earliest memories and chronicling events up to the present. A memoir, on the other hand, would focus tightly on a peak experience or turning point, such as the summer your uncle taught you how to operate his tractor before you were old enough to drive, or the year you were diagnosed with breast cancer.
I encourage students in my writing workshops to choose memoir over autobiography. It's much easier to write about one key experience at a time, whether your goal is a book-length memoir or a series of short personal essays.
Here are a few tips to help you mine some memorable treasure:
Make a list of life-changing events, large and small. Put a check by the ones you'll want to write about first.
Hush your inner critic and give yourself permission to write freely. Worry about editing and packaging the final product after you've written a first draft.
Explore your stash of souvenirs and heirlooms. Choose one, then write an essay about how you acquired it and what it means to you. (If you plan to pass the item along to a loved one, include a copy of your piece.)
Use a family recipe as a prompt and delve into the memories it stirs. Your Italian grandmother's spicy eggplant Parmesan, for instance, is redolent of old-country stories and celebrations.
Grab a box of colored pencils and draw a map of your childhood bedroom. Write about your favorite toys and the pals who visited.
Interview the elders in your family, asking them to share anything from a love song to a war story. Record the interview.
Be a master of detail. Use proper names and employ all of your senses when you write. Turn to family photo albums if you need visual reminders of former homes, cars, and clothing styles.
Avoid aimless rambling; make a point and arrive at a conclusion. Your memoir will be more engaging if it imparts your wisdom, advice or a life lesson.
As Saul Bellow once wrote, "Memories keep the wolf of insignificance from the door." When we commit our stories to the page, we're often surprised to discover that our "ordinary" lives are richer than we'd realized. We renew our appreciation for everything we've inherited, earned, or lost along the way – including our eccentric relatives. — Cindy La Ferle
_______________
— This column was originally published in Prime magazine (formerly Michigan Senior Living) last year. My column appears bimonthly in the magazine. Watch for the next issue in the April 7 edition of the Sunday Detroit News and Free Press. —
*The St. Patrick's Day column, titled "My Wild Irish Relative," is included in my essay collection, Writing Home. Photo shown above: A watercolor painting by Russell P. Finney, given to my parents on their wedding day.