Cindy La Ferle on April 17th, 2011
It takes a long time to grow an old friend."  ~John Leonard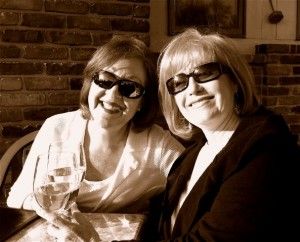 All too often, we put our social lives on the back burner because we're too busy with work or family obligations. Or because we think we have to pull out all the stops to entertain company.
Earlier this year, within a very short period of time, several of my oldest friends buried their beloved parents. With these losses fresh in mind, my friend Debbie (in the photo at left) and I made a pact to get together more often — and to keep it simple.
As the old Beatles song goes, we get by with a little help from our friends. But new research indicates that it goes much deeper than that: An emotionally supportive social network brings us several health benefits. This week's column on Royal Oak Patch.com is a meditation on the tender topic of friendship. It includes some new resources to help you cultivate, nurture, or weed out your own garden of friends. Please click here to read it. — CL
Tags:
"It's Not Personal" by Cindy Hampel
,
"When Friendship Hurts" by Jan Yager
,
friendship
,
health and well-being
,
healthy friendships
,
May issue of Prevention magazine and "How Healthy Are Your Friendships?"
,
Royal Oak Patch
,
social relationships
,
studies on friendship
Read More
Comments (9)
Events & news