Posted on February 11, 2010
Filed under Poems to inspire | 10 Comments | Email This Post
My spellbound heart has made and remade the necklace of songs" — Rabindranath Tagore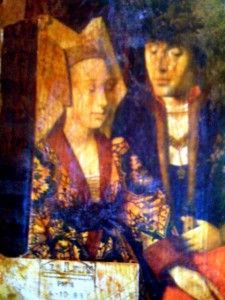 Valentine's Day is coming, and I'll be the first to admit it can be a guilt-inducing Hallmark holiday. As hard as I try to avoid playing the sentimental fool, lately I've been jumping at any chance to celebrate the people I cherish. I've lost a few in recent years — so I'm burying old grudges and trying not to leave any of my love unsaid.
Reading Tagore's "Unending Love" for the first time, I knew it was the perfect poem to give my husband, whose birthday falls on Valentine's Day. Doug and I met in art class in ninth grade, and immediately felt as if we'd been best friends for ages. We married several years later, after college, and we'll gratefully celebrate our 30th anniversary this year.
This poem was Audrey Hepburn's favorite, and if you click here, you'll hear a reading dedicated to her by Gregory Peck. Love to all! — CL
Unending Love
By Rabindranath Tagore
(Translated by William Radice)
I seem to have loved you in numberless forms, numberless times
In life after life, in age after age, forever.
My spellbound heart has made and remade the necklace of songs,
That you take as a gift, wear round your neck in your many forms,
In life after life, in age after age, forever.
Whenever I hear old chronicles of love, its age-old pain,
Its ancient tale of being apart or together,
As I stare on and on into the past, in the end you emerge
Clad in the light of a pole-star, piercing the darkness of time:
You become an image of what is remembered forever.
You and I have floated here on the stream that brings from the fount
At the heart of time love of one for another.
We have played along side millions of lovers, shared in the same shy sweetness of meeting,
the same distressful tears of farewell —
Old love, but in shapes that renew and renew forever.
Today it is heaped at your feet, it has found its end in you,
The love of all man's days both past and forever:
Universal joy, universal sorrow, universal life,
The memories of all loves merging with this one love of ours —
And the songs of every poet past and forever.
–Reprinted from Selected Poems, by Rabindranath Tagore (with an introduction by William Radice); Penguin Classics; 2005 —
— Photo: detail from a collage by Cindy La Ferle —
Comments